It's the middle of the night and your car breaks down on a deserted street. What do you do? You call Big Joe's Hook & Tow of Rutland, Vermont, of course. Our family-owned-and-operated, full-service business provides towing services, roadside assistance, tire changes, lockout service, and jump starts. Junk car removal is also available when you need to get a clunker off your property. Move your vehicle quickly and safely with towing services and junk car removal from our shop in Rutland, Vermont.
Need help? Call us now: 802-773-4563
With our experience we know the correct way to hook up your car or truck. In the times that your car or truck is in a position which does not allow the tow truck to get close access to your vehicle, we will use our winch to safely pull your vehicle out of the position to allow the tow truck access. With our years of experience you can be assured that we will use the correct procedures and precautions to get your vehicle on the tow truck and towed to the destination of your choice.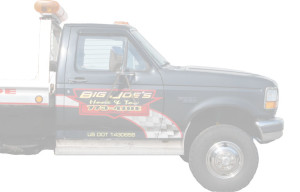 It is never a pleasant experience when you are stuck on the side of the road, but "Big Joe's Hook & Tow" will work hard to make it a bit easier. We also can provide towing services for moving your car or truck from one location to another. Sometimes you may have a vehicle that you have not registered but you need to get it into the shop. Give us a call at "Big Joe's Hook & Tow" and we will tow your vehicle from point to point for you.
If your vehicle needs service, we can tow you to your local or distant dealership or your automotive repair shop mechanic of choice. If you need to find a quality repair shop to leave your car or truck, then we can help. Through the years we have established great working relationships with many area service & repair shops. We can steer you in the right direction and tow your vehicle there. While we specialize in light duty towing, medium & heavy duty can be arranged through our network of local providers. So just call us, we can get the job done.
Insurance & Auto Club Reimbursement
We work with many of the major auto clubs for roadside assistance and we work with insurance companies everyday for accidents. In the event that you need to pay for your tow or vehicle recovery then we will give you what you need to ensure that you get reimbursed the money you spend on the tow or winch back from your auto club or insurance company. We also have reasonable prices for those that are not covered by an auto club or roadside assistance organization. We will not make your experience more unpleasant that it already is, with an overpriced bill.
We work hard to ensure that we treat you fairly regardless of your insurance coverage or wether you are a member of AAA Auto Club or any other Roadside Assistance Organization. Call us, we are the fair, professional and friendly towing and emergency roadside assistance company serving Vermont, New York, Connecticut and the surrounding areas for years.
Big Joe Loves Junk Cars!
We pickup junk cars. Do you have a junk cars & trucks in your driveway or yard that you need to get rid of? Are these unsightly junk automobiles making your property look like a salvage or junkyard? Is your town or city telling you to remove your unregistered junk cars & trucks from your property? If you are in any of these situations and you need to get your junk car bought for salvage, than give us a call.
Contact us at (802) 773-4563, in Rutland, Vermont, for junk car removal that gives your property a neater appearance.
Services at a Reasonable Rate
Lockouts
It's probably happened to you before. You weren't thinking about what you were doing and you shut your car, leaving your keys hanging in the ignition. When it happens again, give us a call. We provide fast lockout service 24 hours a day for motorists in the Killington or Rutland areas.
Flat Tires and Jump Starts
Have you noticed that your car never seems to stop in a place where you can get help easily? Big Joe's Hook & Tow won't leave you out in the cold when you get a flat tire or your battery dies. We provide reliable, prompt around-the-clock service for tire changes and jump starts.